Bender to Oversee Main Office Operations including Campsite Reservations, Guest Services, Annual Lease Site Compliance, Golf Car Operations, Laundry and Vending
Myrtle Beach, SC | Ocean Lakes Family Campground, a division of The Jackson Companies, in Myrtle Beach, S.C., has promoted Greg Bender to Assistant General Manager. His new responsibilities include overall operations handled in Ocean Lakes' Main Office and the Annual Lease Site Compliance Department. Bender will continue to oversee Ocean Lakes Golf Cars operations, the laundry facilities and the vending operations.
A central hub of operations for Ocean Lakes, the Main Office houses several important departments but focuses on campsite reservations and check-ins, annual lease site guest registration, guest services, mail and deliveries, and annual lease site operations including Compliance. The Compliance Department works closely with Horry County officials and lease holders to ensure codes and policies are met and to help coordinate construction, renovations and permits on Ocean Lakes features 2,566 annual lease sites.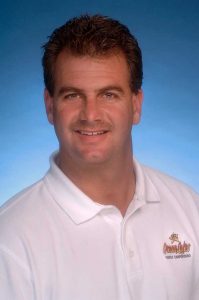 Bender grew up in Ocean Lakes, spending time at the site his parents purchased in 1974. He began his career more than 30 years ago in Ocean Lakes' oceanfront arcade. He continued to work his way up in the company, after graduating from Marion High School, becoming a trained golf car mechanic, the Shop Supervisor, and learning golf car sales. As Bender continued to broaden his knowledge and leadership skills, he became Ocean Lakes Golf Cars' Manager in 1997. He was instrumental in the growth of the campground's golf car rental program, with a fleet of more than 900 Club Cars. He took over the campground's laundry and vending operations in 2004. Bender continued to develop Ocean Lakes' golf car sales and service, building a strong reputation in the region, and capitalizing on the custom golf car market. Today, Ocean Lakes Golf Cars is a leader in the golf car industry, earning prestigious award recognition in 2017, Club Car's coveted Black & Gold Elite status.
"Greg has been an outstanding member of our management team," comments Lance Thompson, Vice President and General Manager. "He models the kind of attitude and leadership abilities that have garnered him respect and admiration among our entire team and throughout the community."
Greg lives in Murrells Inlet with his love, Carrie, and their three dogs, Nalu, Lola, and Rimmie. He is a graduate of LGS XXV and has competed in USTA League Tennis for more than 25 years, winning multiple state team titles. He loves surfing, traveling, golf, and spending time with his family and friends. If he is not on his boat, you might find him camping. Last year, after 8 months of renovations, Greg and Carrie took their refurbished 1962 Shasta camper for its inaugural trip to Dreher Island located on Lake Murray.
About Ocean Lakes Family Campground
Ocean Lakes Family Campground, a division of The Jackson Companies, is the largest campground on the East Coast and one of the largest in the United States. Located in Myrtle Beach, S.C., it has received numerous awards for excellence. It is the 2017 National Mega RV Park of the Year and has received that honor from the National Association of RV Parks and Campgrounds (arvc) six times. Ocean Lakes received the TripAdvisor® Certificate of Excellence for consistently great guest reviews on the travel-planning website in 2013, 2015, 2016 and 2017.
In 2006, Ocean Lakes received the prestigious South Carolina Governor's Cup for making a significant economic impact on South Carolina. Ocean Lakes covers 310 oceanfront acres with nearly one mile of beachfront. It offers 3,424 sites – 859 of which are large and pull-through to accommodate larger RVs. It was built by Mary Emily and Nelson Jackson and their five daughters, starting in 1970. It opened with 30 campsites and one bathhouse in 1971. On an average seasonal day, Ocean Lakes has 25,000 to 35,000 guests enjoying the countless amenities that have made it a local favorite and a national vacation destination. It holds a perfect 10/10*/10 rating from the Good Sam RV Travel Guide & Campground Directory for its overall operation, recreational offerings, services and appearance. This puts Ocean Lakes Family Campground in the Top 1% of the private campgrounds in North America. In 2010, it received the Earth Day Award from the South Carolina Department of Health and Environmental Control for its iCare Program.
Ocean Lakes Family Campground is a division of The Jackson Companies, a family-owned enterprise that includes Prestwick Golf & Country Club, Ocean Lakes Properties, Crystal Lake Mobile Home Village, Ocean Lakes RV Center, Ocean Lakes Golf Cars and the master-planned development SayeBrook.