Storm Info & Updates for Ocean Lakes
Ocean Lakes' team always monitors storms that may impact our area, especially during Hurricane Season June 1 – November 30.

| Official Facebook Page | Chief Meteorologist Ed | Chief Meteorologist Frank | Chief Meteorologist Jamie | Ventusky Weather Map | WJHG Radar | BoatUS Maps | Wunderground near OLFC | Hurricane SC | OLFC Web Cams (if powered) | Hurricane Terms


Enjoy the beach! Be careful in the water, watch children closely, and be aware of ocean currents. As the season is coming to an end, there are limited Lifeguards on the beach. Our Beach Lifeguards are provided by Lack's Beach Service and can be found on the beach from March until October. Especially during peak season, Memorial Day to Labor Day. NOTE: Our beach is in Horry County's jurisdiction, not under Myrtle Beach's jurisdiction. Umbrellas are the ONLY shading device permitted year round (in addition to an infant structure no bigger than 3×3).
Beach Hazard |
Learn more about Rip Currents and what to do in the graphic below and from Beach Safety from Duke Brown.
If you have any concerns or need help, contact Ocean Lakes Security 24/7 at the Main Gate by calling (843) 828-4847.
See the graphic below, "Rip Currents – Know Your Options." Click HERE to view Page 16 of the Ocean Lakes Magazine to learn about Swim Safe Tips and Rip Currents.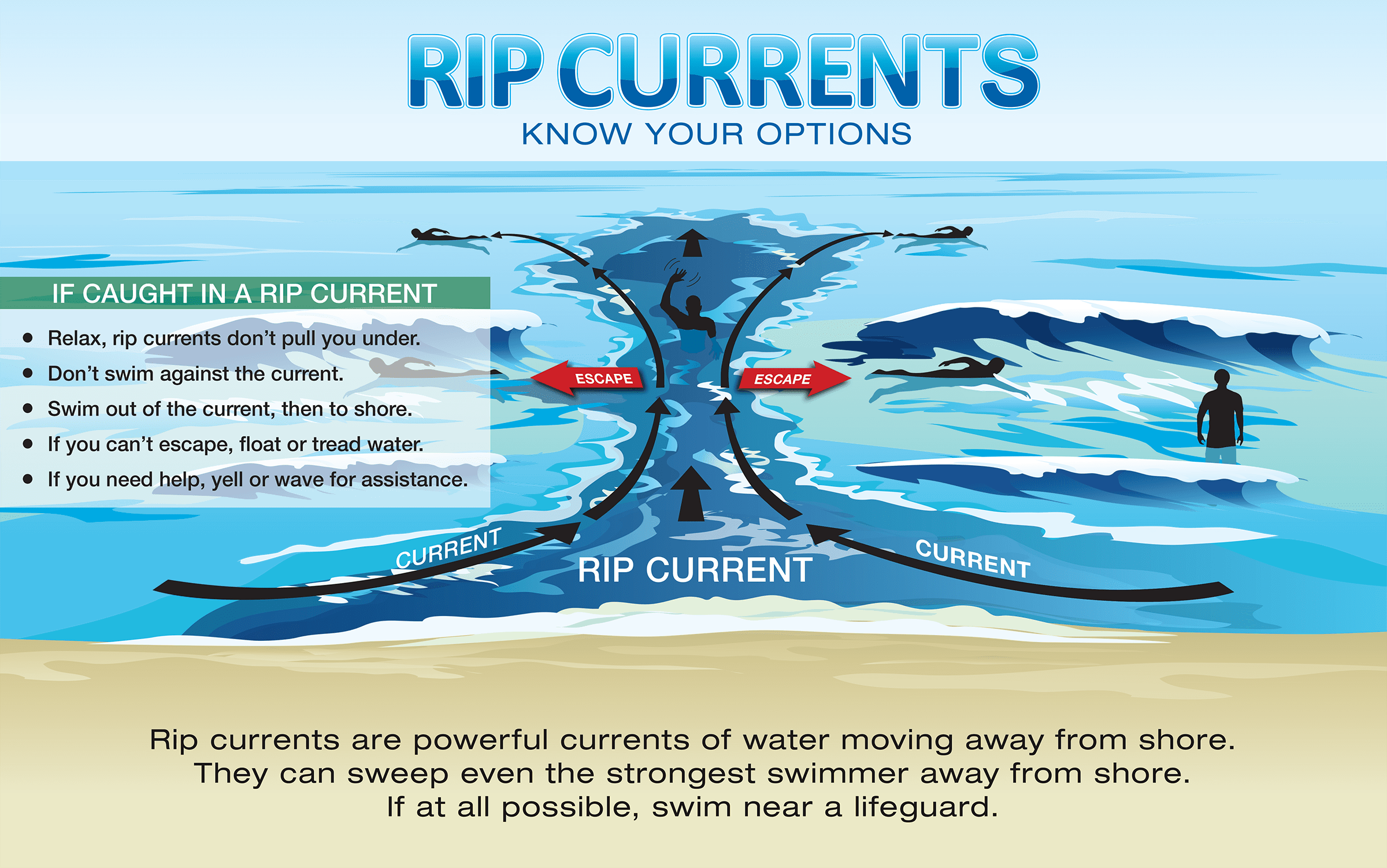 If you have any concerns or need help, contact Ocean Lakes Security 24/7 at the Main Gate by calling (843) 828-4847.
BEACH SAFETY
About LONGSHORE Currents |

Community members and visitors, please be extra cautious at the beach when there is a longshore current. A coastal storm impacts ocean currents and sometimes brings a strong longshore current. This type of current quickly moves you up the beach and can be very disorienting when you come ashore, as you may not realize that you are far from where you entered the water. Watch children closely!
If you can't resist the call of the ocean when currents are strong, it's strongly recommended that you stick to water that is knee height or below and keep your eyes on the changing surf.
The current near piers poses a higher risk as choppy waves can sweep your feet right out from under you.
Lifeguards are on duty where typically assigned and during standard seasonal service hours.
In an emergency, dial 911 and answer any questions from our skilled Horry County 911 telecommunicators to the best of your ability.
____________
For your Safety – Please Do Not Play or Walk on the Dunes |

Hurricane Ian destroyed several sections of our precious dunes. The sand dunes are the first line of defense when a storm impacts our area, protecting property from damage caused by high winds, storm surges, waves, and tides.
Avoid Walking, Sitting, or Climbing on Dunes | Sand dunes are very fragile, especially right now because they are made of fresh sand. Vegetation has not grown on them, creating a root system to strengthen them and help the sand stay in place.
It is the Law | Walking on the dunes or storing items on them is against the law in Horry County. There are federal laws, as well. Those who break this law could be fined up to $500 or even be arrested. It is also illegal to cut, break, or otherwise destroy sea oat plants, beach grass, or sand fencing.
_______
Contacting Us | Call our Campsite Reservation line at 877-510-1413 or Rental Reservation at 800-845-2229 regarding your reservation.
Reservation Policies |
Find our year-round reservation policies online: Campsites and Ocean Lakes Properties Rentals.

See below for the normal reservations cancellation policies due to a NAMED storm/hurricane for campsites and OLP rentals:
If there is a Named Storm in the Atlantic and you have a Reservation to Camp or Rent:
If you have a reservation and choose not to come, you must call our Campsite Reservation line at 877-510-1413 or Rental Reservation at 800-845-2229 to cancel your reservation (prior to your arrival date) to see if there is a special exception regarding your applicable deposit.*
We will not refund your deposit UNLESS we are under a Warning or Evacuation. We retain the applicable reservation deposit unless there has been a Warning or Evacuation issued for a named storm.*
Myrtle Beach is under a named Storm Warning or Evacuation for Zone A:
If there has been a storm/hurricane warning or evacuation for our area, we give a full refund/the deposit.*
*Note on Cancellations | The reservation arrival date must be within the named storm dates and before we resume business operations, if you are canceling a reservation farther out then those dates, you will be subject to our normal cancellation fees.
Travel Resources | Road Links, Apps, Gas
Will Ocean Lakes Notify me of Damage to my Property?
Our team has a lot of experience with storms and hurricanes. Our Emergency Preparedness Plan is updated annually and outlines step by step how to prepare our oceanfront campground for an impending storm. This plan includes communications (web, social, email, app push, etc.), securing our buildings, structures and operations as deemed necessary, preparing post storm resources, staging equipment, working with Storm Water Management, our power companies and other local authorities. We organize and mobilize our team before and after the storm. Some Camper & Golf Car Storage guests choose to remove their property from our storage facilities, that is not necessary, however, that is the owner's decision. When an evacuation is declared by the Governor our team works to help guests depart the property. We complete all tasks according to our Emergency Prepardness Plan and finally begin to shut down utilities and secure all park access – including the Main Gate. During a storm, the safety of our team and guests is the priority. Generally, during a storm we have Security on site in a secure structure and location to monitor the park during the storm (depending on the severity of the hurricane – safety first). Our Marketing Team works (from wherever they are) to keep everyone updated as much as possible as long as power and internet/cell is operable. Once it is safe to move around the park, Security begins to assess our property for damage while our teammates return to help repair and clean up the park. Necessary equipment is utilzed. Our team surveys the entire property and notes damage from wind, debris, trees, objects, rising water, etc. to all annual lease sites (2,573), storage campers (2,600+), and storage golf cars (300+). We understand you are anxious to learn about your property/recreational vehicles, but this takes teammates and time. We do not enter the structures or campers – it is more of a "drive by" assessment of the exterior. It generally will not determine a leak in a roof, window, door, etc. or other potential internal damage. We work to contact owners as soon as possible.
PLEASE remember: this is our home. We understand that guests and lease holders are concerned about their property, but we would appreciate the consideration of our teammates and their families who may be dealing with damage to their homes. We do our best to provide outstanding customer service, but Grand Strand is OUR PRIMARY RESIDENCE and our place of employment. We appreciate everyone's patience, understanding, and prayers as our team juggles their families' needs with our guests' needs. This includes the inevitable barrage of phone calls, emails and the constant social media requests.
Review some of the helpful check lists below, including Ocean Safety and Driving Tips. We have included information from Horry County, as well. Ocean Lakes has always tried to operate with guest-friendly policies, we have included our "Storm Related Policies for Camping Guests" to help address any concern.
Additional hurricane information can be found on Horry County's website at http://www.horrycounty.org/Departments/EmergencyManagement/Hurricanes. This link contains information on how to prepare for an emergency, evacuation routes and maps, re-entry information, shelters, etc.
Additional hurricane information can be found on Horry County's website at www.horrycounty.org
Horry County Emergency Management Facebook:https://www.facebook.com/horrycountyemergencymanagementdepartment
Horry County Emergency Management Twitter: https://twitter.com/HorryEMD
Horry County operates on new OPCON levels
OPCON THREE – Normal Daily Operations
Agencies plan, train, coordinate and exercise as needed. Incidents are monitored by the county warning point and county emergency management.
OPCON TWO – Enhanced Awareness
A disaster or emergency is likely to affect the county. Emergency operations plans are implemented. The County Emergency Operations Center is partially activated if necessary.
OPCON ONE – Full Alert
A disaster or emergency is imminent or occurring. The County Emergency Operations Center is fully activated. Emergency response personnel are activated.
Important Phone Numbers:
Horry County EMD
(843) 915-5150
Horry County phone bank assisting the public with questions regarding Hurricane Dorian.

American Red Cross (shelters)
(843) 477-0020
SCDOT
(888) 877-9151 Traffic & Road Conditions
Only activated when needed & Spanish interpreters available.

Re-entry Information
(866) 246-0133
This phone line is manned in Columbia and provides information on evacuation, shelters, damage assessments and re-entry. The number is activated once an evacuation is ordered.

SCDHEC
(843) 915-8804
Special Medical Needs Shelters
Horry County Emergency Management can also be followed on Facebook and Twitter.
Ocean Safety Checklist
Watch for the Lifeguard Flags signaling ocean water conditions.
Be honest about your swimming ability. The ocean is not a swimming pool.
Never turn your back on the ocean. Being hit by a wave while you're not watching can cause serious injury.
Never take your eye off children in the water, no matter how calm the ocean.
If you need help, shout "HELP" (and not a family member's name) or wave an arm to get attention.
A current can pull you away in waist high water.
If you get caught in a current, do not struggle against it. Rip currents are usually narrow, so calmly swim perpendicular to the current direction to get out of it.
Too many rules to remember? Then remember just one…..SWIM IN FRONT OF LIFE GUARDS!
Storm Driving Tips:
Motorists are urged to use extreme caution when traveling as roads will be slick and ponding could occur.
First and foremost: slow down! It takes longer to stop or adjust in wet weather.
Stay toward the middle lanes – water tends to pool in the outside lanes.
Maintain proper following distance (3 Second Rule). This needs to be increased in wet weather.
Drive in the tracks of a car ahead of you.
Don't follow large trucks or buses too closely. The spray created by their large tires reduces your vision. Take care when passing them as well; if you must pass, do so quickly and safely.
Be more alert when driving in wet or slippery conditions. Watch out for brake lights in front of you.
Coastal residents and property owners are especially encouraged to begin securing outdoor furniture, garbage cans, etc. as winds will start increasing on Friday.
Horry County residents should stay tuned to local media for updates. It is also a good time to review family hurricane plans, including items that may be needed such as water, batteries, flashlights, etc.
Additional hurricane information can be found on Horry County's official website.
Hurricane Supply Checklist:
When preparing for a hurricane, the American Red Cross recommends to have the following safety tips and supplies in the event of a hurricane.
Before You Leave:
Unplug all appliances, turn off the electricity and the main water valve to reduce damage
If you have time and live in an area prone to flooding, move furniture to a higher floor
Tell someone outside the flood area where you are going
When You Evacuate:
Leave as soon as you can, in daylight, if possible
Listen to the radio; avoid flooded roads and watch for washed-out bridges
Be prepared for delays; roads and bridges will probably be crowded and traffic will move slowly
What To Bring:
First aid kit, prescription medications, toiletries
Baby food, diapers, foods for persons on restricted diets, if appropriate
Playing cards, games, books
Battery-powered radio, one flashlight per person, extra batteries
Blankets, sleeping bags, and warm protective clothing
Identification, copies of insurance papers, passports, other essential documents
Food & Water:
Canned foods: Store canned vegetables and meats to create no-cook main dish meals if the power is out. Pack canned fruits, raisins, dried fruits and nuts for snacks.
A manual can opener
At least 3 gallons of water per person
Instant coffee and tea
Powdered fruit drink mixes or canned juices
Other good staples: peanut butter and jelly, crackers, cookies, chips & cereal
Baby food and ready made formula
Plastic eating utensils, paper plates, and paper towels
A supply of food and water for pets
Other supplies
Extra batteries
Battery-operated radio
Flashlights, with extra bulbs
Battery-operated lanterns. Take care with candles or Coleman lanterns, which could be fire hazards and should be used only after the storm
Charcoal or gas grill, with a supply of fuel
Matches
Fire extinguisher
Toilet Paper
Protective Clothing, rainwear, and bedding or sleeping bags
Mosquito repellent
Special items for infants, elderly or disabled family members
First Aid Kit
Keep items in a waterproof container
First Aid Manual
Sterile adhesive bandages
Sterile gauze pads
Hypo allergenic
Scissors & tweezers
Packets of moistened towelettes
Antiseptic spray
Hydrogen peroxide
Aspirin
Ointments for burns and cuts
Antacid tablets
Prescription for a month