Ocean Lakes 20th Annual Polar Bear Plunge
Guests are "Freezin' for a Reason" to Help Local Food Banks

POOLS, AMENITIES, AND ACTIVITIES ARE IMPACTED BY COVID-19 | LEARN MORE
*December 31st at the Observation Deck – Register Online beginning in November! See below….
(Register online – see link below. Sign up in advance at the Recreation Office by Noon.)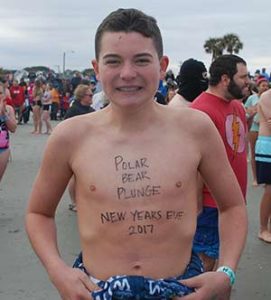 Our winter Ocean Lakes Tradition! Can you believe more than 600 guests participate in this event!
"We're freezin' for a reason" this year! The Plunge takes place Dec. 31 at 3 PM – what a way to end the year! Join this exclusive club by taking a dip in the Atlantic. It all began with three brave souls. The numbers increase annually as brave (crazy) guests take the plunge. From young to old, they always have a great time! Heads up: you must immerse your body from head to toe (yes, your head must get wet) – this is a Polar Bear Plunge not a Turtle Toe Touch, LOL.
Participants are asked to bring two non-perishable canned items to help our friends at South Strand Helping Hand, which provides support and resources to the needy in our community. Registration is $10 and you must donate two nonperishable items per person in the Recreation Office or donate a minimum of $2 per person when registering online. The membership fee includes entry into the Polar Bear Plunge, a T-shirt naming participants a "Polar Bear," and bragging rights.
Pre-Plunge party kicks off at 1:30 p.m. on the beach by the Observation Deck. Our live DJ will get you pumped up with music while guests snap a photo with our polar bear mascot.
Our online registration guarantees your Polar Bear Plunge Shirt. Be sure to put your name and the requested t-shirt size in the "Name" field when registering. If you do not include your t-shirt size, you will not be guaranteed to receive your desired size. Individuals who sign up online will need to pick up their wristbands and packets in the Recreation Office starting on December 28th.
Packets must be picked up by

NOON

on December 31st.
**Open only to guests staying at Ocean Lakes**
NOTE | This event is open ONLY to guests staying in Ocean Lakes and our annual lease site holders.
So, where are you going to be this New Year's Eve day? We hope you'll join our "happy campers" and celebrate the New Year!