Ocean Lakes Golf Car Sales and Service
Located inside Ocean Lakes Family Campground, 6001 South Kings Highway, Myrtle Beach, SC 29575
Visit our Official Site • Rental Rates • E-mail • (843) 238.8841 | Customer Testimonial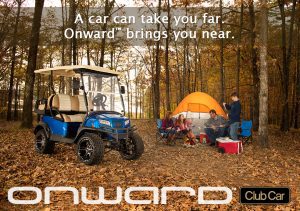 One of the best modes of transportation at Ocean Lakes Family Campground is golf cars. Ocean Lakes Golf Cars handles the rentals of nearly 1,000 golf cars, repairs individually owned golf cars, and sells a large variety of used and reconditioned golf cars and accessories. Golf car storage is another feature that many of our guests' value. Some of our loyal Ocean Lakes guests come prepared and bring their own electric golf car, but many rent one of ours! Guests are permitted to bring their privately owned electric golf car to Ocean Lakes – simply register it at Ocean Lakes Golf Cars by showing proof of the proper liability insurance (learn more here). Please read the Golf Car Policies.
Golf Car Rentals
Ocean Lakes' golf car rental rates vary with our seasons, so make sure you are looking at the correct rate chart! Sorry, guests can not reserve a golf car, they are rented on a "first come" basis. Our rental golf cars are not permitted to leave the campground. Learn more about rentals at Ocean Lakes here.
Golf Car Sales and Service
Ocean Lakes Golf Cars has a vast selection of new and refurbished golf cars for your lifestyle and leisure activities! In addition to golf car sales, we also have an extensive parts, accessories, and service department to accommodate all major brands of golf cars. Check out our sales inventory online. Need a custom golf car? Our team can deliver the best golf cars to order – paint, accessories, and outstanding customer service.
Golf Car Storage
We have a 40,000-square-foot lot for guests of Ocean Lakes to store their personally owned golf cars. The lot is secured and paved, and each guest has their own assigned parking space. Storage is $48.00 monthly, billed quarterly ($144 per quarter). A limited amount of Temporary Storage is also available for $15 per week (maximum of 2 weeks) see here for details.
Hours |
Golf Car Rentals (for OLFC guests only)
In-Season (begins 5/25/23 to Labor Day): 8 AM – 11 PM Daily*
Halloweekends Hours: 8 AM – 5 PM Sunday – Wednesday | 8 AM – 9 PM, Thursday – Saturday
Beginning October 30, 2023: 8 AM – 5 PM Daily
Thanksgiving Week open later, Wednesday – Saturday: 8 AM – 8 PM
December 1 – February 28:
Monday – Thursday: 8 AM – 4:30 PM
Friday: 8 AM – 5 PM
Saturday: 9 AM– 4 PM
Sundays: CLOSED
Holidays – Open 12/24 and 12/31 – 9 AM – 4 PM
Closed Christmas Day.
Open 2/18: 9 AM – 4 PM
Sales/Parts Counter: 8 AM – 5 PM
Golf Car Events
If you plan on staying at Ocean Lakes for Independence Day, make sure you have a golf car for the Annual Ocean Lakes Patriotic Golf Car Parade! Everyone decorates their golf cars in a patriotic 4th of July theme and joins the parade through Ocean Lakes. It was one of Mr. Jackson's favorite Ocean Lakes traditions!