Water recreation is a big part of the Ocean Lakes Family Campground experience. Many of our guests are good swimmers, but may not be experienced swimming in the ocean. You may be use to swimming in a pool, a lake or a river – but the ocean is different!
Remember these Swim Safe tips:
Swim in the lifeguard areas and with a buddy
Don't fight the current (signal for help)
Swim sober
Don't float where you can't swim
Watch small children closely
Don't dive into the surf, protect your neck
Leash your boogie or surf board
Ask a lifeguard about ocean water conditions
Look for, read and obey all Beach Safety Flags (see below).
Watch for the Lifeguard Flags
Double Red = Water Closed to Public | No Swimming
Red = High Hazard | High Surf and/or Strong Currents
Yellow = Medium Hazard | Moderate Surf and/or Currents
Green = Low Hazard | Calm Conditions, Exercise Caution
Blue = Aquatic Danger | Dangerous Marine Life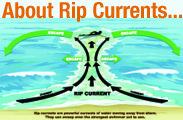 Rip Currents | If you suddenly get pulled out from the shore and cannot swim towards shore you are caught in a Rip Current. DO NOT fight the current! Swim parallel to the shore until you are out of the rip current and then swim towards shore.