MYRTLE BEACH'S OCEAN LAKES FAMILY CAMPGROUND TO BUILD NEW TWO-ACRE WATER PARK; CONSTRUCTION TO BEGIN AFTER LABOR DAY 2015
Contact: Barb Krumm, Director of Marketing and Public Relations, 843-828-4829 or via her email.
Jamie Wilburn or Lei Gainer, LHWH PR
(843) 448-1123 or email Jamie.
(High resolution photos available on request.)
Campground Will Expand Its Sandy Harbor Family Fun Center To Three Acres with 705 Foot Adventure River, Tube Slide, Mat Racer And More
March 10, 2015, Myrtle Beach, S.C. — Ocean Lakes Family Campground in Myrtle Beach, S.C. will be adding a new two-acre water park to its Sandy Harbor Family Fun Center later this year. Construction will begin after Labor Day 2015 and the water park will open in Spring 2016. The new water park will feature a 705 foot long "Adventure River at Sandy Harbor." The hybrid lazy river features a speed lane called "The Rapids" and a slide known as "The Tube" which lands in the Adventure River. The 28,110 square feet of water surface in the park will also include a new themed kids "Splash Zone," a semi-covered kiddie pool called the "Tad Pool," and a four lane "Drop Zone Mat Racer" that will begin 35 feet up in the air. The lounge area will also be expanded to 61,232 square feet of pool deck, complete with cabanas. View PDF of new amenities.Sandy Harbor Pools Myrtle Beach SC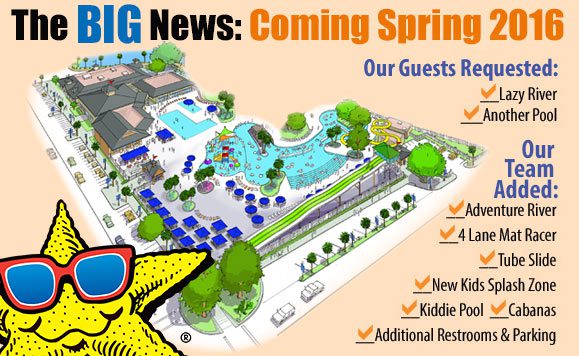 Ocean Lakes' existing Olympic-sized pool and Sandy Harbor Mini Golf will remain as part of the new water park.
"Our guests have been requesting a lazy river, but we decided to deliver something bigger, better and more fun," said Barb Krumm, Director of Marketing and Public Relations for Ocean Lakes Family Campground. "As a result, our Sandy Harbor Family Fun Center expansion will be one of the biggest investments we have made in Ocean Lakes' amenities in our 44 year history. With it, we're demonstrating our commitment to our guests and to being a leader in our industry. Our top priority is making sure that our guests have the best vacation possible."
Known for exemplary customer service and delivering an outstanding customer experience, Ocean Lakes Family Campground is the only campground or RV park in the Carolinas to receive an "A" grade six times from the annual GuestRated™ satisfaction survey of independent parks. Only 34 out of 4,000 campgrounds and RV parks received the "A" rating, based on more than 30,000 surveys completed by camping and RV enthusiasts throughout the United States. The survey contained 55 different guest satisfaction questions.
For more information about Ocean Lakes, visit www.oceanlakes.com. Updates on the construction of the new water park will be available on Twitter and on Facebook. Mobile users can find out more about Ocean Lakes by downloading the app at: onelink.to/78cfxk.
About Ocean Lakes Family Campground
Ocean Lakes Family Campground, a division of The Jackson Companies, is the largest campground on the East Coast and one of the largest in the United States. Located in Myrtle Beach, S.C., it has received numerous awards for excellence. It is the 2011-2012 National "Park of the Year" in the Mega Park category and has received that honor from the National Association of RV Parks and Campgrounds (ARVC) five times. In 2010, it received the Earth Day Award from the South Carolina Department of Health and Environmental Control for its iCare Program.
In 2006, Ocean Lakes received the prestigious South Carolina Governor's Cup for making a significant economic impact on South Carolina. Ocean Lakes covers 310 oceanfront acres with nearly one mile of beachfront. It offers 3,447 sites — 893 of which are large and pull-through to accommodate larger RVs. It was built by Mary Emily and Nelson Jackson and their five daughters, starting in 1970. It opened with 30 campsites and one bathhouse in 1971. On an average seasonal day, Ocean Lakes has 25,000 – 30,000 guests enjoying the countless amenities that have made it a local favorite and a national vacation destination. It currently holds a perfect 10/10*/10 rating from the Good Sam RV Travel Guide & Campground Directory for its overall operation, recreational offerings, services and appearance. This puts Ocean Lakes Family Campground in the Top 1% of the private campgrounds in North America. TripAdvisor awarded Ocean Lakes its 2013 "Certificate of Excellence."
Ocean Lakes Family Campground is a division of The Jackson Companies, a family-owned enterprise that includes Prestwick Country Club, Ocean Lakes Properties, Crystal Lake Mobile Home Village, Ocean Lakes RV Center, and the master-planned development SayeBrook.