7th Annual Ocean Lakes Bluegrass Weekend – August 26 & 27, 2005!

Featuring The Lonesome River Band, J.D. Crowe, David Parmley, The Larry Stevenson Band, Bluegrass Strangers, Michelle Nixon & Drive and The Grass Cats!
2005 Tickets and Reservations…
Wristbands include two outstanding days of bluegrass bands! The concert will began on Friday at 4 PM until 10 PM, and again on Saturday from 3 PM until 10 PM.  It is held in the air-conditioned Recreation Building, and will feature several premier bands (see below).  Wristbands are $25 for both days in addition to your site fee.
 Many guests made reservations for Thursday, August 25th (to participate in the fun) and departed on Sunday, August 28th.
Call Ocean Lakes, for campsite reservations dial toll free, 1-877-510-1413, for rental reservations dial 1-800-845-2229.  This show is exclusively for Ocean Lakes' guests (campers, renters and Annual Lease holders) – there are no wristbands for the general public. Seating is limited.  When you call to make your reservation, let us know you are coming to hear bluegrass and we'll take care of the rest!
2005 Schedule*
Friday, August 26, 2005

(Concert is 4 PM – 10 PM)
9:00 AM Mini-Golf Tournament 1:00 PM Golf Car Poker Run 1:30 PM-2:30 PM possible Workshop 2:30 PM-3:30 PM possible Workshop 4:00 PM-4:45 PM The Grass Cats 4:45 PM-5:30 PM The Bluegrass Strangers 5:30 PM-6:15 PM David Parmley & Continental Divide 6:15 PM-7:00 PM J. D. Crowe & The New South 7:00 PM –   7:45 PM The Grass Cats 7:45 PM –   8:30 PM The Bluegrass Strangers 8:30 PM –   9:15 PM   David Parmley & Continental Divide 9:15 PM – 10:00 PM J. D. Crowe & The New South
Saturday, August 27th, 2004

– (Concert is 3 PM – 10 PM)
1:00 PM  Golf Car Poker Run 1:00 PM Bingo @ Sandy Harbor Pool 3:00 PM –   3:45 PM Michelle Nixon & Drive 3:45 PM –   4:30 PM The Bluegrass Strangers 4:30 PM –   5:15 PM The Larry Stevenson Band 5:15 PM –   6:15 PM    Dinner Break 6:15 PM –   7:00 PM    Michelle Nixon & Drive 7:00 PM –   7:45 PM  The Bluegrass Strangers 7:45 PM – 8:30 PM The Larry Stephenson Band 8:30 PM – 10:00 PM The Lonesome River Band
* Schedule subject to change to accommodate band needs or emergencies.
The Bands
Lonesome River Band
When Sammy Shelor joined the Lonesome River Band in 1990, he says, "the first thing we got together and discussed was the fact that we'd all tried to do different things in the 80's and strayed away from traditional bluegrass. So we tried to make a record of traditional bluegrass with a rock'n'roll edge to it. That was our whole approach, and it's always been my approach, and it just caught a lot of attention."
1991's Carrying The Tradition was the result. It was named the International Bluegrass Music Association's Album Of The Year, and it took the Lonesome River Band into the top ranks of bluegrass artists. Since then, the group has headlined countless shows and festivals, recorded four more acclaimed albums, and earned coverage in the popular media while bringing distinguished alumni like Dan Tyminski to national attention. The Lonesome River Band has been among the leaders in bringing hard-driving bluegrass to a new generation of fans, as each change in its lineup has brought new energy. Today, Shelor says, that same orientation – and the same excitement – of 1990 is back.
"Over the years, that sound has changed somewhat, and I want to go back to that. I want to get back to the roots of what really got us started," he says. "It's all a matter of outlook and attitude toward what you're doing. Our whole philosophy is to involve young fans, to bring in new fans, by creating a spark that gets them saying well, bluegrass is cool, because of the energy."
The Lonesome River Band doesn't ignore older fans – "We bridge the gap enough to where I have a 70 year old gentleman come up talking about how great it was, and then I've got a 16 year old kid that's just excited to be there," Shelor laughs – but there's no doubt it has had a special appeal to listeners attuned to that "rock'n'roll edge." With its crackling rhythm, dynamic material and powerful harmonies, the signature Lonesome River Band sound has won them the attention of non-bluegrass artists like John Fogerty (they guested on his Blue Moon Swamp) and Joe Diffie (who appeared with them on the IBMA's Award Show stage) and the enthusiasm of audiences at events like the alt.country music festival, Twangfest. In the studio or onstage, the Lonesome River Band name is synonymous with excitement.
As the longest-tenured member of the band, the job of finding new members fell to Sammy Shelor. Sammy began playing at age five, his musical and family roots intermingled in and around his Virginia home. His relentless drive and distinctive rhythmic and melodic variations earned him a growing reputation in the 1980's as he worked with Heights Of Grass and the Virginia Squires before joining the LRB. Genial and outgoing, Sammy has recorded with many of his friends, including Larry, Wyatt and Tony Rice, past LRB bandmates like Dan Tyminski, IBMA Fiddle Player Of The Year Ron Stewart, both on his album (the 1997 solo debut, Leading Roll) and theirs, as well as with bluegrass legends like Charlie Waller and the Country Gentlemen. He also appeared on the IBMA award-winning Knee Deep In Bluegrass all-star album and is one of a handful of banjo greats with his own AcuTab transcriptions book.
Fiddle player Mike Hartgrove brings his own lengthy and stellar record of accomplishment to the band. Between 1976 and 1991, the Missouri native worked the country side of fiddle playing with the incomparable George Jones and Texas honky-tonker Moe Bandy and contributed classically tasteful fiddling to the work of two enduring bluegrass greats, the Bluegrass Cardinals and Doyle Lawson & Quicksilver. He was a founding member of another of the top contemporary groups of the past decade, IIIrd Tyme Out, where his expressive playing won the devotion of fans of every age.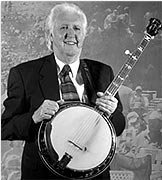 J. D. Crowe & The New South
The word "legend" gets used too often these days, but when it comes to James Dee "J. D."Crowe, no other will do. His pioneering work with Jimmy Martin's Sunny Mountain Boys, begun while he was still a teenager in the mid–1950s, contributed to scores of bluegrass classics and set a standard to which legions of banjo players and harmony singers still aspire. The Rounder Records debut he recorded in 1975 with his trailblazing band, The New South, is widely recognized as one of the genre's most important recordings and continues to inspire new generations more than a quarter of a century after its release. While subsequent albums have explored both hard–driving bluegrass and creative country blends. With the Bluegrass Album Band, he reintroduced audiences to the songs of the first generation's masters in a series of influential albums that spanned more than a decade and a half. He's earned Grammy and IBMA awards, been honored by his native state and acclaimed around the world. Today, his name is synonymous with unsurpassed mastery of bluegrass tradition, bold innovation, the nurturing of fresh talent and an uncompromising devotion to musical excellence.
Yet even as he continues to earn recognition for a lifetime of accomplishment, J. D. also continues to lead a hard-working bluegrass band that has earned comparison with the greatest of the New South's earlier lineups. Dwight McCall, Harold Nixon and Rickey Wasson all grew up musically within a hundred miles of Crowe's long time home ground of Lexington, Kentucky. Inspired not only by the New South&Mac246;s classic albums but by personal appearances, the Crowe repertoire and approach to bluegrass are as familiar to them as bluegrass itself. Supplemented at times on personal appearances by outstanding instrumentalists like fiddle players Ronnie Stewart, Aubrey Haynie and Michael Cleveland, they're equally at home with the bluegrass classics, the wealth of the New South repertoire and their own additions to it.
Dwight McCall was born in Maryland, moving to Cincinnati shortly before he began playing mandolin and singing in earnest as a teenager. The son of bluegrass great Jim McCall, he first drew attention as a member of Union Springs, releasing three well-received CDs and touring regionally between 1992 and 1995. He stopped onto the national stage as a member of Charlie Waller's Country Gentlemen before joining the New South in 1996. He appeared on J. D. Crowe & The New South's Come On Down To My World (1999), taking the lead on the title track as well as several other songs, including his own "I Don't Know." His powerful tenor has been paired with the Lost & Found's Scottie Sparks on his self–titled debut of 1999, and with two time IBMA Male Vocalist of the Year Dan Tyminski, both on the latter's solo album and the award–winning Stanley Gospel Tradition.
Rickey Wasson is a lifelong Kentuckian who began playing guitar when he was five. After playing in area groups, he joined Southern Blend in 1985, recording three albums with the band and earning a reputation throughout the region as a gifted lead and rhythm guitarist and New South-influenced singer. He recorded his own solo gospel album, Songs From The Old Country Church (1989), with a guest list that included Alison Krauss, for whom he returned the favor in 1993 by filling in on tour dates as a member of Union Station. Rickey joined the New South in 1998, taking part on several of Come On Down To My World's tracks as guitarist. He also appeared with J. D. Crowe & The New South on the live album, At Bean Blossom: Uncle Pen Days (2000). Like Dwight, Rickey took a hiatus from playing with the New South before returning to the group at the beginning of 2002.
Harold Nixon is the least well–known of the New South's members, but it's no exaggeration to say that's a consequence of his youth than his talent. He first came to the New South's attention playing with John Cosby and the Bluegrass Drifters, a durable central Kentucky outfit, and served a stint with Unlimited Tradition before joining Crowe's band in early 2002. Harold's steady, tasteful but energetic bass is an indispensable part of the New South.
Ron Stewart is fast becoming a bluegrass legend in his own right, and is probably the most respected multi–instrumentalist in bluegrass today. If your ear has been turned by a great, traditional sounding fiddle or banjo break on the latest bluegrass hit record, chances are you're listening to Ron Stewart! Ron grew up playing with his family band in Paoli, Indiana, and had already been invited to play fiddle on a live album with his legendary hero, Lester Flatt, by the time he was nine years old. His gutsy and soulful fiddle playing has earned him the Indiana State Fiddle Championship twice, and the IBMA Fiddle Player of the Year in 2000, as well. He makes his home in rural Paoli, Indiana and maintains a blistering schedule as a recording session player.
David Parmley and Continental Divide
Traditional bluegrass music enthusiasts and Bluegrass Cardinal fans alike will appreciate the new look and sound of David Parmley and Continental Divide. The change of the group's musical direction reflects Parmley's firm roots in tradition as he and the band return to familiar and highly requested Cardinal favorites, and hard driving new compositions. The return of Randy Graham as the vocal duet partner of Parmley, and the high tenor contributor of the acclaimed "Cardinal sound" also allows for the return of the strong gospel quartets, and "brother duets" done as typically only true family harmonies can provide. Kentucky state fiddle champion, Steve Day, adds to this equation both vocally and instrumentally. His intricate fiddle work is displayed both as emotional filler for the strong ballads sung by Parmley, and high energy, "up in your face" hoe downs. His instrumental side-kick, banjoist Ben Greene, is equally as dynamic and exciting. His strong right hand, excellent taste, impeccable tone, and metronome timing are quickly making him a stand out among his peers. Holding down the upright bass duties is the newest, and increasingly popular member of the band, Stacy Wilcox. Not a "bass cat" by nature, Stacy has quickly adapted to his new role with the Divide. Recognized by fans as an accomplished banjo player, Stacy's keen ear and great sense of timing has made his newest role as the backbone of the group an easy, and successful transition. With such multitalented individuals both vocally and instrumentally, it's hard to tell what fans may see and hear from David Parmley and Continental Divide, although one thing is for certain…It proves to be an award winning combination sure to please crowds of all ages!! See more at www.davidparmleyandcontinentaldivide.com
(Back to the top of the page.)
Larry Stephenson is self-described as "singer first and mandolin player second", and Larry Stephenson does a top-notch job at both. A product of one of the most fertile talent-producing regions in America, Larry ranks among roughly a half-dozen pre-eminent high lead-tenor singers in Bluegrass music. His voice and mandolin styling have been featured on more than a dozen albums by artists such as Bill Harrell & The Virginians, The Bluegrass Cardinals, The Bluegrass Band, as well as a dozen critically-acclaimed albums of his own. His twelve-year tenure with the Pinecastle/Webco record label has proven to be a mutually beneficial relationship serving as Stephenson's outlet for distribution of his work. The Virginia native's crystal clear voice skillfully interprets old mountain Bluegrass songs with the same ease, clarity and power as it does a beautiful gospel song or a modern contemporary ballad.
After more than a decade paying his dues traveling the U.S. and Canada along with several overseas tours to Japan, Europe, and the Middle Eastern countries, Stephenson formed THE LARRY STEPHENSON BAND in early 1989. Featuring superb trio harmony vocals, with the kind of instrumental work that would be expected of Larry Stephenson and the other consummate professionals with which he has surrounded himself, the group has quickly earned a reputation as one of the best Bluegrass bands on the scene.
Stephenson was honored by his home state when he was inducted into the Virginia Country Music Hall of Fame. The Governor pronounced June 23, 1996, Larry Stephenson day and a ceremony in Crewe, VA was held to celebrate the induction.
The Larry Stephenson Band has become a regular guest on the WSM Grand Ole Opry. The Opry stage is becoming a welcomed addition to the band's strenuous touring schedule. Having been featured on the TNN televised portion several times; Stephenson has enjoyed long-awaited TV exposure reaching the mainstream masses. In September 1996, the group was included on the tribute to Bill Monroe, an honor that the band appreciated greatly Bluegrass fans everywhere are now hearing The Larry Stephenson Band as headliners on the circuit's top festivals. Youthful professionalism, choices of material and performance punch have propelled The Larry Stephenson Band to the top of their field.
Aaron McDaris, the senior member of the THE LARRY STEPHENSON BAND began in August 2000. A talented instrumentalist in both banjo and bass, he is the product of a family rich in musicianship. Aaron began playing at the ripe age of 12 and began performing on stage at age 14. THE LARRY STEPHENSON BAND welcomes his fresh baritone and lead vocals as well as his impeccable banjo taste and timing. Aaron is featured on the bands latest projects, Heavenward Bound and  Clinch Mountain Mysetry, which released.
Randy Barnes, began with THE LARRY STEPHENSON BAND in April 2001. A talented instrumentalist, he is the product of a family rich in bluegrass heritage. Randy began playing at age 7 and later performing with the Barnes Family Band. Randy has performed with others such as Lou Reid and Carolina, and the most recent endeavor before his now well suited position was with Rhonda Vincent and the Rage.  Randy provides solid bass playing and fine vocals. This addition still boasts an upright acoustic bass. You can find his back bone bass and vocals on the Clinch Mountain Mystery project.
Dustin Benson, the newest member of  THE LARRY STEPHENSON BAND began in May 2003.  Dustin grew up in Jasper, Alabama and started playing at the ripe age of twelve-years old.  He played with Valerie Smith & Liberty Pike in April of the same year and later filling in with THE LARRY STEPHENSON BAND in September 2002 until the new year.  He then became a permanent member of the group in May 2003 where the group welcomed his addition and is glad to have him on stage on guitar and vocals. You may find him on the Clinch Mountain Mystery project. Learn more at www.larrystephensonband.com.
(Back to the top of the page.)
The Bluegrass Strangers are a favorite every year according to concert goers and are back by popular demand for the 7th year!   The Bluegrass Strangers are one of the most exciting, straight ahead, traditional bands performing today!  They come to Myrtle Beach from Kentucky and Ohio. Dick Webb from Franklin Furnace, Ohio doesn't have to take a backseat to anyone when it comes to playing a traditional five-string banjo.  He also does a fantastic job playing old style claw hammer.  Dick also sings baritone and low tenor in the trios and bass in the quartet.  Jimmy Lykins, from Garrison, Kentucky is lead singer with songs straight from the heart with soul and feeling like no one else.  He also plays a strong rhythm guitar. The Strangers are one of the most exciting, straight ahead,traditional bands performing today. Jamie Shannon, Is an outstanding mandolin player that for sure should not be overlooked. His mandolin playing is tasteful, exciting and full of energy. He sings lead vocal. Doug Burchett, is a new and upcoming strong lead singer and great guitar player, which is full of energy and excitement. Doug also sings tenor. The newest member of the band Dean Whitaker, is a great asset to the band with his rock solid timing on the upright bass. Wendy Webb, who rounds out the group, is the sound technician who mixes the group to produce the great sound that you will surely enjoy.
Band member Dick Webb and his wife Wendy will also handle the sound for the Ocean Lakes' Premier Bluegrass Weekend. See more at www.bluegrass-strangers.com.
(Back to the top of the page.)
It's My Turn, the debut release on Pinecastle Records from Virginia native Michelle Nixon & Drive, encompasses many musical influences and brings them together in one fantastic package, sure to please any fan of acoustic, bluegrass and country music.
Coming from a musical family, Michelle began singing as a young child and joined a country band at the tender age of 14. She has been performing professionally ever since! It's only been in the past few years that Michelle has honed her writing skills, writing superb country, bluegrass and gospel favorites. Michelle is a true entertainer. Her strong, pure voice compliments any song she sings. Audiences delight in the music she sings; making them feel every note she's conveying. It's apparent she loves performing and brings smiles to people's faces every step of the way. Michelle, who's very active in her community, is a favorite local entertainer, enjoyed by many.
On It's My Turn, Michelle touches the more traditional side of country music with the Dallas Frazier classic. Beneath Still Waters, and One Small Miracle, written by Grand Ole Opry members Bill Anderson and Steve Wariner. Michelle also does a fantastic job on Joan Henry (written with Michelle in mind!) and Harlan, material from the world-renowned writer and storyteller himself, Mr. Tom T. and his lovely wife, Miss Dixie Hall. Original compositions by Michelle featured on It's My Turn such as The Writing's On The Wall, a song reminding us nothing that is worth having comes easy, No Matter, reminds us that some people never truly get over their one true love, and the inspirational tune, Let Me Be Your Escort, are sure to make Michelle an established writer within the genre. In addition to Michelle's writing, the young teenage prodigy on banjo, Jason Davis, adds his take on a soon to be popular bluegrass instrumental on Couch Potato. Don't let the name fool you, Couch Potato….drives! Along with these songs and many others, you're sure to have many favorites.
Vernon Hughes is featured on the mandolin and vocals, and has been performing with Michelle over the past decade. Vernon currently endorses his own signature Hughes Mandolin that he has been professionally crafting since 1997. Jason Davis, featured on the banjo,was a prodigy at only 14 years old. Was awarded Virginia Folk Music Associations contest as Entertainer of the Year. He has also been featured in Style Weekly Magazine. Eddie Shifflett, on guitar, has performed with several bluegrass bands throughout his career. He is proficient on guitar, mandolin and bass and is also a great lead singer.Jim Green began playing at age 7, and performs vocals and on bass. Jim joined the Navy and ended up in California where he was able to perform with well-known bluegrass players. If it has strings, Justen Hanes can play it! Justen is currently attending The Shenandoah Conservatory College of Music as a scholarship recipient, Justen is working towards a degree in Viola/Violin Performance.
(Back to the top of the page.)
The Grass Cats is a five-piece bluegrass band from across North Carolina. Each "Cat" brings years of performing and recording experience from mainstay regional and national bands and a love of traditional Bluegrass. Their shows feature lively foot-stomping fiddle and banjo music, bluegrass classics from the 50s and 60s, tight vocal harmonies, acapella gospel quartets, down home humor, and even a dose of Golden Age George Jones and Johnny Cash. They are equally adept at "covering" tunes from sources as diverse as Eric Clapton, Steve Earle and The Beatles. Raleigh's News and Observer says, "With dead-on picking, fine lead vocals and sympathetic harmonizing, the Grass Cats are a welcome addition to North Carolina's community of bluegrassers." There is no doubt that when you hear a Grass Cats show, a link to the past and the love of the music is what they really strive to get across. Their first two releases, Cattin' Around and By Request on New Time Records have brought the band critical acclaim and national airplay.
Greg Miller is featured on guitar and vocals first received attention when his powerful baritone lead vocals were heard statewide on bluegrass radio stations with the band "Moe & The Grass." With the Cats, Greg's talent as a lead vocalist is featured. His soulful leads blended with Russ' high tenor are the core of The Grass Cats distinctive sound. Being the leader and front man for the Cats allows Greg to share his warm personality and humor with the audience.Tim Woodall is featureds on the banjo and vocals can be heard every other Sunday night as the host of the Pinecone Bluegrass show, spinning the very best in Bluegrass music on 94.7 WQDR in Raleigh. Not only can he play it on the radio, but he has brought his hard-driving banjo style to stages all over NC for the past 20 years with his longtime band "Patchwork."Tim is a top-notch musician that has played and recorded not only banjo, but pedal steel, guitar, and bass as a sought-after session player. Tim provides harmony vocals with the Cats, but is a featured leadsinger on their programs too. Russell Johnson on mandolin and vocals brings eleven years of performing and recording experience to the Cats from his days as leader of "New Vintage." His role with The Grass Cats lets him stretch out and perform more of the traditional style of Bluegrass he loves so dearly. His distinct high lonesome tenors and humorous stage presence are hard to forget. Russell's success as a songwriter and singer is well documented with six original songs reaching the national chart on the Bluegrass Unlimited National Bluegrass Survey. He has been described as "among the most promising of the bluegrassers who will take the music of Bill Monroe into the next century. Chris Hill on fiddle is one of the youngest Cats, but by no means is he a newcomer to professional bluegrass. He brings to the stage numerous recordings and six years of performing experience with eastern Carolina's "Al Batten and the Bluegrass Reunion." His fiddle style is deeply rooted in tradition, and his solos and backup work really highlight the songs. Listen for Chris to ignite the audience and get every foot tapping with crowd favorites like "Orange Blossom Special" and "Sally Goodin." Robin Burke on bass and vocals is the newest member of The Grass Cats and has a background of Southern Gospel, as well as Bluegrass music. She has played with "Kindred Hearts" for the last five years in the Southern Gospel field and traveled to Switzerland in the year 2000 with a bluegrass band called "Kickin' Grass!" In addition to adding a fresh new vocal sound to the Grass Cats, she is an accomplished guitar player as well as electric and acoustic upright bassist.