6th Annual Ocean Lakes Bluegrass Weekend – August 27 & 28, 2004
Charlie Waller past away a week before our show. Ocean Lakes was the first performance for the Country Gentlemen, including his son Randy Waller, since Charlie's passing. The crowd was in awe.

Featuring Doyle Lawson & Quicksilver, Charlie Waller & The Country Gentlemen, BlueRidge, The Ronnie Bowman Band, The Bluegrass Strangers, Sally Jones & The Sidewinders and Carolina Sonshine!
The Show will go on for Charlie…
Ocean Lakes extends its thoughts and prayers to the family, friends, band members and fans who love and adore him. Charlie passed away yesterday, Wednesday, August 18th of a massive heart attack. He was in his garden picking squash to take on the road. It is a great loss for the Bluegrass Community, but Charlie will live on in our hearts and ears through his music. Ocean Lakes will continue the show Friday with The Country Gentlemen, in Charlie's memory and as a tribute to this outstanding legacy and a great man. Fans can visit Charlie's website at: www.charliewaller.net fans can leave comments for Charlie.
2004 Tickets and Reservations…
Wristbands include two outstanding days of bluegrass bands! The concert will began on Friday at 4 PM until 10 PM, and again on Saturday from 3 PM until 10 PM.  It is held in the air-conditioned Recreation Building, and will feature several premier bands (see below).  Wristbands are for both days in addition to your site fee.  Many guests made reservations for Thursday, August 26th (to participate in the fun) and departed on Sunday, August 29th.
Call Ocean Lakes, for campsite reservations dial toll free, 1-877-510-1413, for rental reservations dial 1-800-845-2229.  This show is exclusively for Ocean Lakes' guests (campers, renters and Annual Lease holders) – there are no wristbands for the general public. Seating is limited.  When you call to make your reservation, let us know you are coming to hear bluegrass and we'll take care of the rest!
(Back to the top of the page.)
2004 Schedule
Friday, August 27, 2004

(Concert is 4 PM – 10 PM)
9:00 AM Mini-Golf Tournament 1:00 PM Golf Car Poker Run 1:30 PM-2:30 PM Workshop 2:30 PM-3:30 PM Workshop 4:00 PM-4:45 PM Carolina Sonshine 4:45 PM-5:30 PM Bluegrass Strangers 5:30 PM-6:15 PM The Ronnie Bowman Band 6:15 PM-7:00 PM Charlie Waller & Country Gentlemen 7:00 PM –   7:45 PM Carolina Sonshine 7:45 PM –   8:30 PM Bluegrass Strangers 8:30 PM –   9:15 PM   The Ronnie Bowman Band 9:15 PM – 10:00 PM Charlie Waller & Country Gentlemen (Back to the top of the page.)
Saturday, August 28th, 2004

– (Concert is 3 PM – 10 PM)
1:00 PM  Golf Car Poker Run 1:00 PM  Bingo @ Sandy Harbor Pool 3:00 PM –   3:45 PM Sally Jones & The Sidewinders 3:45 PM –   4:30 PM Bluegrass Strangers 4:30 PM –   5:15 PM Blueridge 5:15 PM –   6:15 PM    Dinner Break 6:15 PM –   7:00 PM    Sally Jones & The Sidewinders 7:00 PM –   7:45 PM  Bluegrass Strangers 7:45 PM – 8:30 PM BlueRidge 8:30 PM – 10:00 PM Doyle Lawson & Quicksilver    (Back to the top of the page.)
The Bands
Doyle Lawson & Quicksilver – Doyle Lawson began his bluegrass career over thirty years ago playing banjo for Jimmy Martin & the Sunny Mountain Boys (featured at our 2003 show). A few years later, he became the guitar player for J.D. Crowe & the Kentucky Mountain Boys, and in 1971, joined the Country Gentlemen. During his eight years with that vanguard group, he established himself as a renowned tenor singer, mandolin player, producer and arranger.
The face of bluegrass music changed forever in 1979, when Doyle formed his groundbreaking band, Quicksilver. At a time when influences of "newgrass" and "new acoustic" music had pushed instrumental prowess to the forefront, Doyle single handedly brought harmony singing back into the bluegrass spotlight. The Doyle Lawson & Quicksilver sound – which emphasizes smooth, intricate, astonishinly perfec vocal harmonies, innovative song arrangements, and stunning instrumental work – has been a model for countless progressive bluegrass bands of the 1980s and 90s.
Gospel Quartet singing is the mainstay of the Quicksilver repertoire and Doyle is a master at discovering and revitalizing obscure material from old hymnbooks and early records. "Rock My Soul" released in 1981, set the standard for bluegrass gospel quartet singing. In 1986, the Disc Jockey Record chain awarded Doyle a Gold record for having their three all-time best selling bluegrass gospel albums ("Rock My Soul", "Heavenly Treasures" and "Beyond the Shadows"). Doyle's all a cappella project, "Heaven's Joy Awaits" was released in 1987 and remains a best seller today. In 1996, Doyle and the band received a Grammy nominaiton for "There's A Light Guiding Me" and were awarded Gospel Performance of the Year from the the International Bluegrass Music Association. In 1997, their release "Kept & Protected" was voted Gospel Recording of the Year by Bluegrass Now's Fan's Choice Awards and was nominated for a Dove Award. The band's 1998 release "Gospel Radio Gems" is reminiscent of the early days of radio and two songs from this recording received Dove nominations. "Winding Through Life" was a 1999 Grammy nominee and "Nothing Can Touch Me" was also voted the IBMA 2000 "Gospel Recorded Performance of the Year. "Just Over in Heaven" released in July 2000 received both Grammy and Dove nominations. Their 2001 recording "Gospel Group of the Year" Award. "Hard Game of Love" completed in 2002 is their first secular release in several years. It is busy climbing the bluegrass charts and received a Grammy Nomination.
Doyle Lawson & Quicksilver regularly headline major gospel and bluegrass festivals throughout the United States including their own festival in Denton, NC. They maintain a full schedule of church, theatre, and school appearances. They have toured extensively throughout Canada, Europe and the British Isles and have performed for the US State Department in North Africa, the Middle East, Central and South America. Their television appearances include ABC TV's Nightline, the Nashville Network and the Americana Network. They have performed at the National Quartet Convention and they appear in the Bill Gaither video "I'll Meet You on the Mountain." In December of 2002, DL & Q taped a Gaither Bluegrass Video that hasn't been released yet.
The current DL & Q makeup includes Doyle Lawson on mandolin, singing lead and tenor vocals. Terry Baucom plays banjo and sings bass vocals. Barry Scott sings lead and tenor and plays bass and piano for the band. Jamie Dailey plays guitar and sings baritone and lead, Jesse Stockman plays fiddle and sings baritone. See more at www.doylelawson.com.
(Back to the top of the page.)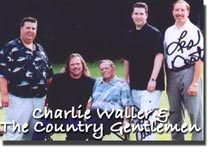 Charlie Waller & The Country Gentlemen –
Since July 4, 1957 the name "Charlie Waller & The Country Gentlemen" has been associated with the finest sounds in Bluegrass music. The reputation has been built on solid foundations, which have endured evolutionary changes and created a legend.
Charlie Waller is a founding member who played the very first date and with few exceptions every show since. Charlie's beautiful voice has sustained the constant vocal sound of the band, which like wine, improves with age. Some of the finest musicians in the United States have been members of the Charlie Waller & The Country Gentlemen, such as Ricky Skaggs, Jerry Douglas, John Duffy, Doyle Lawson, Bill Emerson, Eddie Adcock and Bill Yates just to name a few.
Charlie Waller was inducted in the International Bluegrass Music Association Hall of Honor at the 1996 IBMA Awards Show. He has received numerous awards through SPGMA including Male Vocalist of the Year. Charlie has also made numerous appearances on the Grand Ole Opry in Nashville, Tennessee.
Charlie's current band consists of Darren Alridge on mandolin, Ronnie Davis on upright bass and Greg Corbett on banjo. All of these individuals are veterans of bluegrass music and at this time they are one of the strongest bands in the business. See more at www.charliewaller.net.
(Back to the top of the page.)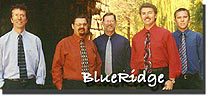 BlueRidge – Formed in 1997 by two of bluegrass and acoustic music's most celebrated performers Terry Baucom and Alan Bibey,  BLUERIDGE seemed to be the perfect name considering all the members are from the foothills and mountains of  North Carolina and Virginia. Their first project, "Common Ground" was released in 1998 and was ranked #3 in sales around the world.  Their new project "Come Along With Me" was released on May 7, 2002 on the Sugar Hill Record label and has already reached #9 on the Bluegrass Unlimited chart along with songs at #2 and # 17 and a song on the Southern Gospel chart at #5 and all are still climbing!  Already considered one of the super groups of this era, their boundaries are limitless. Alan Bibey has made a name for himself as one of the most creative and technically gifted mandolinist in bluegrass and acoustic music.  He was a founding member of the New Quicksilver,  IIIrd Tyme Out and Baucom, Bibey & BlueRidge.   Alan also performed at the Carolina Opry country music variety show and appeared on many commercials and country music specials for the Family channel.  In 1995, Alan was asked to be apart of a project called the Young Mando Monsters that featured the best mandolin players in bluegrass.  He has also recorded with many different artist including Ronnie Bowman, Lou Reid and Carolina, Steve Huber and Herschel Sizemore.  Alan's first solo project "In The Blue Room" was released in May of 2000 to critical acclaim and was voted by County Sales as the #2 Instrumental Recording Of The Year.   He has an instructional video and books distributed by AcuTab and Mel Bay and is also included in Mel Bay's 2000 Mandolin "The greatest Mandolin Players of The 20th Century".  Alan also won awards for "Instrumental Recording of the Year" and "Recorded Event of the Year" at the 2001 International Bluegrass Music Award Show, and has been nominated numerous times for Mandolin Player of the Year.  The Gibson Company will also be introducing a limited run of 50 Alan Bibey Signature mandolins available this fall reaffirming his status as one of the most influential mandolinist in bluegrass and acoustic music history!
Junior Sisk has lived most of his thirty-something years in the Blue Ridge Mountains where he listened to and played the music that was born there.  He has become widely known as one of the greatest voices in bluegrass today.    In 1994, Junior met Wyatt Rice and soon after was asked to be a member of his band Santa Cruz.   After two years and a very successful project with Wyatt, Junior struck out on his own and formed Rambler's Choice.  He and his band spent the next several years touring the US and Europe playing songs from their project " Songs from the Mountains."  After folding the band Rambler's Choice Junior enjoyed a short stint with the Lost and Found.   He is now very excited about his latest endeavor with BlueRidge.  Junior has also has made many guest appearances on other projects including Sammy Shelor's project "Leading Roll" and Tim Austin's " Stanley Gospel Tradition: Songs About our Savior".  Junior has been nominated many times for Songwriter and Male Vocalist Of The Year.  Junior also endorses BlueRidge guitars!
Eddie Biggerstaff has played and recorded with some of the top bluegrass and acoustic performers in the world before joining BlueRidge including Larry Rice, Junior Sisk and Rambler's Choice and Herschel Sizemore.  He was asked to play bass at this years AcuTab concert which features most of the elite in bluegrass music today.  Eddie is a seasoned professional who adds energy and a distinctive edge to the BlueRidge sound.  Eddie's high lead and tenor vocals as well as his rock solid bass playing are a driving force in the band.
Fiddler Alan Johnson found success early, winning the East Tennessee Championship when he was just 13. Trained in bluegrass, he nevertheless found himself pursuing a country music career with artists like Pam Tillis before signing on with Larry Cordle & Lonesome Standard Time in the wake of the latter's Murder On Music Row success. He later had stints with Lorrie Morgan and Terry Clark before returning to bluegrass with BlueRidge in 2003. In addition to his great fiddle playing, Johnson contributes to the group's vocals, including the critical bass role in the band's signature quartets. Alan is also a sought after session player. His main musical influence is his dad who at one time played with Bill Monroe and was one of the finest fiddlers of that period.
Joey Cox is a great young banjo player that already has many accomplishments behind him. He enjoyed a stint Lou Reid and Carolina and also has been a sought after session player. He quickly drew rave reviews from his band mates, and audiences, for his fiery drive and an appreciation for tradition that belies his youth. He has an unlimited supply of talent and enthusiasm from which to draw for many years. He grew up playing with his uncle and family members and attributes that to his love for Bluegrass.
See more at www.blueridgebluegrass.com.
(Back to the top of the page.)
The Bluegrass Strangers are a favorite every year according to concert goers and are back by popular demand for the 5th year!   The Bluegrass Strangers are one of the most exciting, straight ahead, traditional bands performing today!  They come to Myrtle Beach from Kentucky and Ohio. Dick Webb from Franklin Furnace, Ohio doesn't have to take a backseat to anyone when it comes to playing a traditional five-string banjo.  He also does a fantastic job playing old style claw hammer.  Dick also sings baritone and low tenor in the trios and bass in the quartet.  Jimmy Lykins, from Garrison, Kentucky is lead singer with songs straight from the heart with soul and feeling like no one else.  He also plays a strong rhythm guitar.  Scott Tackett, is a new and upcoming strong lead singer and great guitar player, which is full of energy and excitement. Dave Baker, is a great asset to the band with his rock solid timing on the upright bass. Dave also sings tenor and high lead in the band. The newest member of the band Donnie Collings, who rounds out the group, is a outstanding mandolin player that for sure should not be overlooked. His mandolin playing is tasteful, exciting and full of energy. Together they produce a great sound that you will definitely enjoy!  They will perform their program of traditional bluegrass music. Band member Dick Webb and his wife Wendy will also handle the sound for the Ocean Lakes' Premier Bluegrass Weekend. See more at www.bluegrass-strangers.com.
(Back to the top of the page.)
The Ronnie Bowman Band – As early as the age of three Ronnie was performing with his family as they traveled to local churches in North Carolina and Virginia.  With the onset of adult life, however, his career path took a more pragmatic turn and he spent his late teens and early twenties working his way up the corporate ladder.
That changed when, at age 25, he joined the acclaimed Lost & Found band.   In 1988 he made his recording debut on the band's New Day album. In 1990 he joined the Lonesome River Band just in time participate in the making of Carrying The Tradition. Released in 1991, the album propelled the quartet to instant fame, winning them their first International Bluegrass Musicians Award 'Album of the Year'.
Cold Virginia Night (1994), Ronnie's first solo effort, earned 'Album of the Year, 'Song of the Year' for it's title track, and his first 'Male Vocalist of the Year' honor.The second solo release, The Man I'm Trying to Be (1998), brought another 'Male Vocalist of the Year' award.  Meanwhile, the song 'Three Rusty Nails,' co-written by Ronnie, won both 'Song of the Year' and 'Gospel Recorded Performance of the Year'.
Meanwhile, Ronnie released a series of albums with the Lonesome River Band, including Old Country Town (1994), One Step Forward (1996), Finding The Way (1998) and Talkin' To Myself (2000). In 1997 Ronnie, along with two fellow band-members, Kenny Smith and Don Rigsby,  provided background vocals on John Fogerty's Blue Moon Swamp album.
Lee Ann Womack's multi-platinum I Hope You Dance includes 'The Healing Kind' (co-written by Ronnie and Greg Luck) as the album's opening track.  The album also pairs former band-mate Dan Tyminski as harmony singers on 'Lord, I Hope This Day Is Good'.
The Ronnie Bowman Band features several talented musicians. Wyatt Rice is one of the greatest bluegrass guitarists ever know.  Wyatt is an integral part of the Instrumental Group of the Year award-winning band. Steve Thomas (fiddle) has performed with such esteemed bands as the legendary Osborne Brothers, Jim & Jesse, Brooks & Dunn, The Whites, and Barbara Mandrell.  Steve was also an original member of the Lonesome River Band.  Mike Anglin is one of bluegrass' favorite bass players.  His rock solid timing and tone set him apart from many bass players on the circuit today.  Mike has toured nationally with several noted artists within the bluegrass genre. Jesse Cobb is featured on mandolin and grew up in a musical family, performing professionally since a young child.  He was discovered at a local jam session in Nashville.  Jesse's playing is superb. Andy Hall plays the dobro.  Graduating in the upper echelon from the esteemed Berkley College, and only in his mid 20s, he sounds as if he's been performing for decades.  Andy is often compared to the likes of Grammy award winner, Jerry Douglas. Garnet Imes Bowman on harmony vocals, is one of Nashville's most sought after session vocalists, Garnet capitalizes on the soulfulness of the band.  She sings straight from her heart.  Her main influences of soulful, bluesy, and southern gospel music make for an expressive talent. See more at: www.ronniebowman.com.
(Back to the top of the page.)
Carolina Sonshine – CAROLINA SONSHINE is made up of four musicians. Many of you familiar with gospel music already know Danny Stanley of Loris, SC from his eighteen years with his family group, The Stanleys. Danny sings lead and plays guitar. He also plays fiddle, dobro, harmonica and mandolin as well as singing all the harmony parts. Danny is a talented songwriter and CAROLINA SONSHINE features many of his songs.
Dennis Cash of Lumber Bridge, NC plays mandolin and sings tenor and lead. He also plays guitar and autoharp. Dennis, a native of Virginia, has worked in bluegrass groups in California, New York and Tennessee before moving to North Carolina. He also writes for the group.
CAROLINA SONSHINE features Wayne Ratley of Fayetteville, NC on acoustic, upright bass. Wayne has perfected his style playing in a number of regional North Carolina bands. His impeccable timing and strong, definite style of playing punctuate the sound of CAROLINA SONSHINE. Learn more about the band at www.carolinasonshine.com.