Surf Camp (see note below for 2018)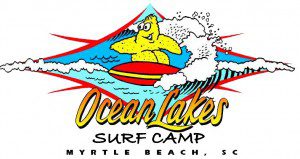 January 2018 note: Ocean Lakes' Recreation Team is reconsidering this event for 2018. Please contact our Recreation Office or re-visit this page in the near future. We appreciate your patience as we evaluate this program for our 2018 Summer Activities Calendar.
Ocean Lakes Family Campground has partnered with the Billabong Surf Camp Program for several years. With only a dozen Billabong Surf Camps on the East Coast, we were honored to be part of this elite group. Besides outstanding training, Billabong provides all surfboards, and participants will receive a bag of Billabong loot.
Participants of the 3-day camp get instruction on safety, surf etiquette, coastal and marine ecology, and board shaping. Our experienced instructors, who are CPR trained, will share their knowledge and expertise surfing the Atlantic. Certified lifeguards are on duty to ensure safety.
Camp has limited space providing a small group setting and more attention to each participant.
Schedule:
Surf Camp will run in two weekly sessions:
Monday – Wednesday
Wednesday – Friday
Both camps are from 8:00 am – 11:00 am each week during the summer season. Please annotate on the registration form which session you would like to attend. Our Summer Recreation Activity Schedule begins on June 3rd and runs through August 23rd. Camp will begin promptly at 8:00 am each morning. Campers should meet at the sailboat landing area south of the basketball courts. In case of bad weather, campers should meet in the recreation building. Each day's activities are listed below.
Daily activities are subject to change.
Day One:
Intro to surfing. Instruction will cover history, types of surfing and equipment needed to surf.
Safety instruction/Rules for Camp. Safety on the beach and in the water, as well as surfing etiquette.
Beach Instruction. Begin learning the mechanics of surfing.
Water Instruction. Time to get wet!
Day Two:
Water Instruction
Coastal/Ocean Environment. You will learn about how the weather effects ocean conditions, critters you will share space with when you are in the ocean, what part the ocean plays in our environment, and how we can take care of these resources.
Day Three:
Water Instruction
Class Photo
Requirements:
Surf camp participants must be between the ages of 10 – 16. Campers should be competent swimmers and in good physical shape. Surfing and other water sports are inherently dangerous activities, along with the dangers the ocean can offer. Please make sure that your child realizes that they must follow all directions from the instructors so the entire group can enjoy a safe experience. No prior surfing experience required.
What You Need to Bring:
We will get in the ocean everyday, so come dressed in appropriate swimwear. A changing area is not available on the beach.
Shoes or flip flops
Sunscreen
Towel
A bag or pack of some type to keep your stuff in would be helpful but not required.
A small snack and water or a sports drink.
NOTE: It is very important that you eat and drink something before you come each day. Fruit, juice or cereal is fine. You do not need a huge breakfast. The exercise will be strenuous and the sun will be hot. Your body will need the fuel so it does not dehydrate.
Registration is currently closed:
The registration fee for Surf Camp is $75 per camper. Each camper will receive 3 days of surfing instruction, camp group picture, and a cool Surf Camp t-shirt. Pre-registration can be made by completing the registration form and returning it to the Ocean Lakes Recreation Office with your $75 registration fee. Camp space is limited and registration will be taken on a first come, first serve basis. Your spot will be confirmed upon receipt of class fee and completed registration form.
Contact our Activities Coordinator via email or call (843) 232-5493.
Please note: All scheduled activities may be subject to change.