Ocean Lakes 15th Annual Polar Bear Plunge
December 31st at the Observation Deck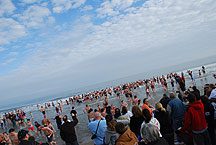 (Sign up in advance at the Recreation Office by Noon.)Our winter Ocean Lakes Tradition!  Can you believe more than 300 guests participate in this event!
Join this exclusive club by taking a dip in the Atlantic.  It began with 3 brave souls in 1999. The numbers increase annually as brave (crazy) guests take the plunge. From young to old, they had a great time!?


Participants are asked to bring two non-perishable canned items to help local charities and food banks. A $6 yearly membership fee will include entry into the Polar Bear Plunge, a t-shirt naming participants a "Polar Bear," bragging rights, and warm refreshments. "We're freezin' for a reason this year!" Traditionally, the Plunge takes place on New Year's Eve Day – what a way to end the year!
So, where are you going to be this New Year's Eve day?
Join us on New Year's Eve Day for Oceanfront Fun to Benefit Local Food Pantries